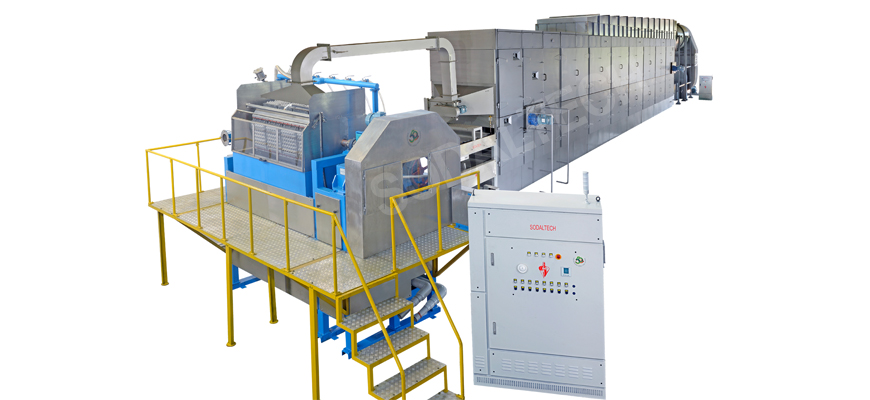 SODALTECH manufactures various models and types of Machines, Equipment, Spare Parts needed mainly to manufacture Paper Pulp Moulded products generally made from Waste Boxes, Papers, Indian Pulp, Taiwan Pulp, Korean Pulp, Canada Pulp, China Pulp, Thailand Pulp, Indonesia Pulp, Southern Pulp etc, most of the Paper & Paper based Paper Waste can be recycled using SODALTECH Equipment. The production lines are simple to operate and maintain. It has high productivity, easy interchangeability of mould tooling, consumes less energy with less manufacturing cost, faster setting time etc, It can be upgraded to next higher level of production by adding less number of additional machines. Various models and ranges are available in Wet Moulding & Dry Moulding Process (Fine Moulding). The range of products that can be made are endless. Few examples are Egg Trays (30-cell) Egg Box/Carton (6-cell,10-cell, 12-cell, 6+6 – cell, 18 cell) Egg Carton of multi cavity sizes, Can Shell types, Apple Tray, Fruit Tray, Tomato Tray, Pear Tray, Orange Tray, Cup carriers used in fast food outlets (4 pack, 2 pack) Hospital and Medical Care products (like Bed Pan Sleeves, Male Urinal Bottle, Female Urinal Pots, Kidney Tray, Bowls) Nursery Pots, Seed Pots (Jiffy Pots), Industrial Packs (Packing Buffers) Electronic Products Packing Pads and Paper Trays, Tableware etc.
  Advantages of SODALTECH Paper Pulp Moulding Machines
Machines Sophisticated yet easy to operate
Rust protected solid steel construction
Fast interchanging of moulds with dryer linking option
User friendly control panel with low maintenance service system
Low cost of production due to less power, space and labour
Choice of end product colors
Water proof products by using additives
High and fast return on investment
Range of Moulding Machines popular in market
BASIC MODEL EGG TRAY MACHINE :-
This is used mainly for entry level or sampling purposes. The Machine will have basic requirements like Forming Mould & Transfer Mould, Vaccum Pulp, Water Separator etc. This can be on Wet Moulding (Wet Molding) or Dry Moulding (Fine Moulding) process.
This model Machines are available to make Carboard Egg Trays, Carton Egg Trays, Disposable Pulp Tableware, Finery Pack, Fruit Tray, Cardboard Lids, Paper Based Packaging, Poultry Products, Trays, Quality Egg Trays, Quality Egg Boxes, Quality Table Wares, Thermoformed Fibre. The Basic Model Machines/Lines are available in following major ranges or as per the customer requirements.
1. Direct Hot Press
2. Egg Carton Machine
3. Disposable Pulp Tableware Lines
4. Dry in Mold Technology
5. Dry Type Pulp Mould
6. Dry Type System Pulp Moulding
7. Finery Pack Line
8. Fruit Tray Line Machines for Paper Based Packaging
9. Pulp Moulding Production Lines for Industrial Packing
10. Tableware Machines
11. Tableware Equipments
12. Quality Egg Tray Making Plant
13. Quality Egg Box Making Machine
14. Advanced Pulp Moulding Technology
15. Oven Dry Manufacturing Process
16. Productive Packing Material
17. Male Urinal Bottle Machines
18. Dry Type Pulp Moulding Machine
19. Disposable Pulp Tableware Production Lines
20. Fine Pulp Molding System
21. Pulp Male Urine Bottle Moulding Machine
22. Pulp Tableware Line
23. Tool and Die set Manufacturing
24. Wet Type Pulp Moulding Machine